This week has been crazy. I have done projects, worked, taken care of kids, gone out, and much, much more. But it's been a good week! This morning, we dedicated Keeley to the Lord and it was so sweet! I'll post some photos later this week. (My dad took a lot of photos and I have yet to get the photos from him.)
Earlier this week, my little sis had her Freshman Prom. I helped her get ready and took some photos. But what I really wanted to show here is the headband that I made for her after I learned how to make satin flowers from
this
lovely lady's blog tutorial.
I love how it turned out and I LOVE how the photos of her turned out. It's so easy to take good photos when you have a subject this easy to take photos of!
I'm going to try to post some more photos of projects I did this week later on. For now, I'll leave you with some links to blogs I discovered this week.
Designer blog with super cute photos and ideas.
Inspiration and design.
Cute crafts and design ideas.
Crafts, tutorials, and great photos!

Inspiration for cute things to make, food info, good photos, etc.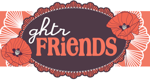 Beautiful paper and stationary blog with lots of ideas.
Over and out for now!